Want To Go To The Bad Kids Go To Hell Premiere at FanExpo Canada?
"Bad Kids Go to Hell"
Premiere and Panel at
FanExpo Canada
Saturday August 25 at 6:30 PM.
The creators, writers, director and producer, as well as surprise celebrity guests will take questions from the audience after the screening.
"Bad Kids Go to Hell" will be special guests of the world famous
Silver Snail Comics every day at Fan Expo!
Make sure to stop by booth #802 and meet the creators and even some of the cast of the movie! And find out how to go to the Premiere & Panel.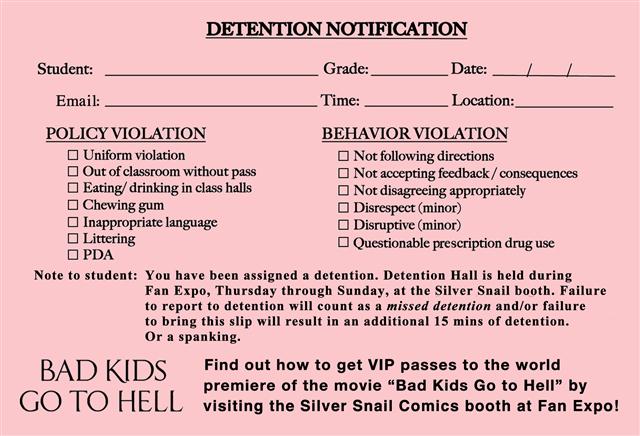 Click on Detention Slip Above, Print out, and Bring to Booth #802
For sale at the booth:
Signed Graphic Novels & Posters, Beanies, Crestview Badges, Backpacks, Temporary Tattoos and other cool BKGtH merchandise.